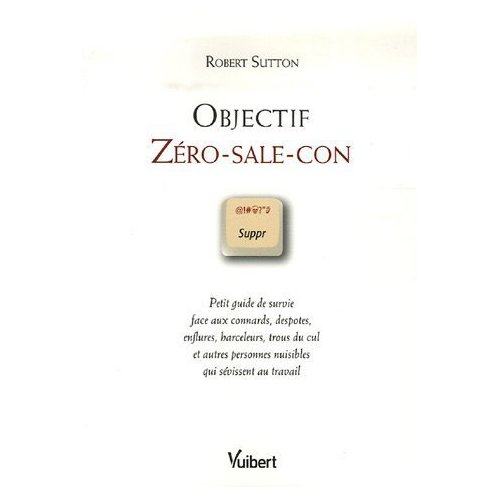 Robert SUTTON l'auteur de « 11,5 idées décalées pour innover» vient d'être traduit en français. Le titre original « The No Asshole Rule» building a Civilized Workplace and Surviving One That Isn't a été traduit « mollement» par « Objectif Zéro-sale-con» petit guide de survie face aux connards, despotes, enflures, harceleurs, trous du cul et autres personnes nuisibles qui sévissent au travail …. Ce professeur de management à la Stanford Engineering School étudie les liens entre les connaissances en management et l'organisation de la prise de décision, de l'innovation, de la performance. La truculence et le sérieux du monsieur est visible sur sa première leçon en vidéo.
C'est donc avec une sensation étrange que j'ai saisi « sale con» dans le moteur de recherche de chez Vuibert pour trouver un livre sur le management en entreprise !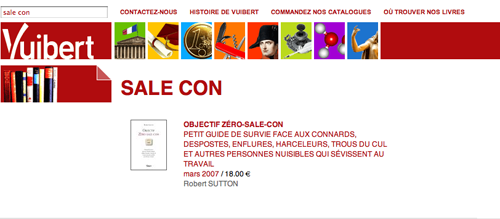 Dans son ouvrage, Robert Sutton évalue et liste les conséquences catastrophiques générées par un sale con dans une entreprise, un petit test permet de s'auto évaluer …vous pouvez choisir également d'appliquer les 12 règles pour le rester ou le devenir. fichier .doc téléchargeable ici. Dans un style différent mais avec autant d'humour et de causticité Claude Lussac estime dans Profession Salaud : Une manière d'être en entreprise qu'aujourd'hui, dans l'entreprise, les salauds ont le vent en poupe ! L'auteur observe que les règles élémentaires de la civilité sont désormais transgressées par un nombre croissant de personnes et que les salauds en question bénéficient d'un environnement favorable grace aux « nouvelles technologies de la communication » et à une économie de plus en plus mobile.
Le monde de l'entreprise et la créativité / réactivité nécessaire au développement/survie de l'entreprise passe par une gestion humaine rigoureuse…et humaine. Au delà des vœux pieux de l'épanouissement personnel au sein de l'entreprise on observe que « le bons sens» du bonheur comme source de progrès se débarrasse de la vision naïve pour migrer vers une nécessité économique. Le langage de la finance et de la performance comme nécessité d'être heureux , tout un programme !