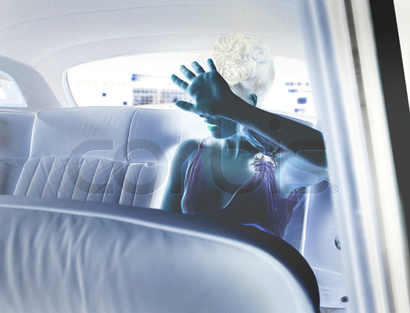 'Watermark' (corbis logo on 'Woman in Limousine Avoiding Photograph' by Rainer Holz as displayed for sale on the website of Corbis, ), 2006.
This collaboratively developed exhibition features works by Natascha Sadr Haghighian, Judith Hopf/Deborah Schamoni, Ines Schaber and Stefan Pente, all addressing themselves to various aspects of the spectral – understood as absences caught in a paradoxical presence, or a discontinued past bound to return. It is not about making ghosts visible, but an investigation of the power relations, institutional forms of display and forms of "enlightenment" which produce shadows and exclusions, and it questions the possibility to speak with and unleash the transformative potential of ghosts.
Ines Schaber speculates on a latent activity within the photograph and its ability to travel through space and time. Using photographs of Pennsylvania workers as her base, she follows images from a series taken for the National Child Labor Committee in the 1910s by Lewis Hine, a pioneer of social documentary photography. These images become the point of departure for a trip through today's hardly recognizable mining country landscape. There, stored in a former limestone mine, exists one of today's largest commercial image archives, Bill Gates' firm Corbis, which offers over 70 million images for sale online, including some from Hine's series. The overlap of these two moments poses questions for photography as the agent of something that is able to travel, multiply itself, appear in various places and speak with its surroundings.
Judith Hopf works with the specters of bourgeois society. How does the attempt to control, the defense against pathological anxieties and the ideology of complete transparency, inscribe themselves on the body and the faculty of imagination? Apart from a series of sculptures, a new videowork, developed and realized with filmmaker Deborah Schamoni is presented in the exhibition. The video, using the metaphor of the sceleton dance, deals with the representation of specters in the institutional space, in search of usable rituals that would make it possible to assign places to specters as representatives of the repressed.
Natascha Sadr Haghighian investigates societal mechanisms of representation and constructions of inclusion and exclusion. How it is decided when someone will be granted member status in a "civilized community"? When is someone perceived as present and addressable through its voice, image, and concerns? How does one lose this status and when is it withdrawn? For the exhibition, Natascha Sadr Haghighian produced two installations which elaborate on the constitutive function of the address: how one is being named, pictured, and categorised, in which she draws on material from feminist novelist Kathy Acker's book "Empire of the Senseless". In various collaborations and dialogues this research is expanded in the accompanying book.
The 200-page reader of the same title is published by Verlag der Buchhandlung Walther König, Köln, with contributions and dialogues by and with Ines Schaber, Natascha Sadr Haghighian, Stefan Pente, and Judith Hopf, as well as Avery F. Gordon, Anselm Franke, Ashley Hunt, Nanna Heidenreich, Sladja Blazan, Thomas Keenan, and Michael Taussig.
The exhibition was originally produced at KW Institute for Contemporary Art in Berlin in 2006. via E-flux